Hey!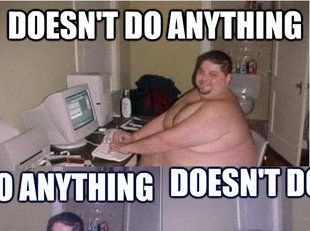 So, I'm guessing lots of you think my title for this post is harsh. Let me explain. Do any of you have totally clueless people in your lives who don't realize how much work goes into writing? Or maybe you have an idiot or two who thinks the time you spend online is the equivalent to the guy above. I don't have a magic remedy for these idiots, but I think venting about them is a great way to cleanse ourselves of bitterness and possibly keep us from tearing up our pretty lawns to bury dead bodies in our backyards. :P
For any non-writers who stumble upon this post, be assured we writers aren't sipping chardonnay in front of a crackling fire while we delicately stroke our keyboards. NO!!! And our time on Facebook, Twitter, Goodreads, and our blogs, isn't idle chit-chat about fluffy poodles. We're retching our guts out as we struggle to eek out another chapter, or we're trying to convince the masses we're cool enough for them to be our friends and maybe persuade them to check out our books. Some of us are running on dang little sleep, yet the house is clean, our babies went to school looking like they stepped out of a magazine, and the fish/cat/dog are still alive because even though we stayed up most of the night blogging, plotting, and stalking Amazon, we still did our stinking part to keep our ships sailing as smoothly as possible.
How's that for venting? I could say tons more, but I don't want my eye to start twitching again. However, I'd love to hear some rants from my fellow writers. Before I sign off, I'll leave you with this lovely thought.
Until next time, happy writing or whatever makes you smile. :)